About once a month, we go out for a special date night that is all about connection and edifying our marriage. For this particular date, we're looking for more than just something fun to do. We anticipate and prepare for the evening together, and set it apart for meaningful conversation and laughter. So when we moved to Nashville two years ago, one of the first things we sought out was a good destination worthy of said date night.
We all know that it takes more than good food to make for a great connection date. It takes an atmosphere conducive to conversation – even better paired with an experience that promotes it! And an environment that feels special – a little set apart from the daily grind. Good service is always a must, as is of course, menu prices and a dress code that align with us.
Much to our surprise, finding go-to restaurants for date night out in a new city wasn't as easy as we expected. We read a ton of reviews that didn't necessarily tell us what we really wanted to know…
Is it a good destination for date night?
We pushed through plenty of experiences that were just 'eh. A lot of high-priced food that just wasn't great. And on more than one occasion, we ended up not even ordering a meal, opting to pick up carry-out from the back-up-plan chain on our way home. We began questioning if our unspoken criteria was unreasonable.
Alas, we persevered and are happy to say that such places do exist! Of course they do… IT'S NASHVILLE! Land of opportunity and an emerging culinary scene.
Butcher and Bee was the first place that we came across to check every box (or make us re-think what a great dining experience entails). We love this restaurant so much, that even knowing there must be plenty of comparable others out there, we have a hard time not going back here again and again.
Which makes it the perfect candidate for our very first Destination: Date Night review. Just a little something we thought would be fun, and hopefully helpful, for you as you embark on your quest to find your own date night destination. Since we are not food critics, we will only feature locations that we personally enjoy (though we are definitely open to suggestions and love trying places that have been personally recommended). And we will focus primarily on what you need to know with regard to those elements that can make or break a date night.
---
(Jump ahead by touching or clicking the corresponding section you are looking for above.)

Great Service:
We've been to Butcher and Bee several times and the service is always phenomenal! The servers are friendly, well-informed, and eager to help. Plus, we've received bonuses on more than one occasion, such as complimentary dessert for our anniversary, or an amuse bouche just because.
Unique / Interesting Offerings:
A reviewer on Trip Advisor used the term "culinary adventure" to describe this restaurant, and we have to agree! Since we cook a lot at home, when we go out, we want options that aren't readily available in our own kitchen. We really appreciate the beautifully plated imaginative flavor combinations crafted from locally sourced, fresh ingredients at Butcher and Bee!
This is probably a great place to also mention that on our most recent visit, there was a guest chef in the house – the James Beard winning chef from The Purple Pig in Chicago – which was a fun and unexpected treat that just adds to how much we love this place!
Environment:
A classy, grown-up atmosphere that boasts the hip culture of East Nashville, and it is family-friendly too (you'll see kiddos here).
Fine Details:
The extra details really convey hospitality as a priority. From complimentary sparkling water and artisan pottery to vintage books in place of check folders, it just feels special here. Even the restroom boasts locally made hand-soap and and a faucet/dryer combination that requires instructions. 😉
Location:
Located in East Nashville, there are plenty of additional options available while you're in the area. We haven't yet made it to any of the immediately surrounding buildings, though, because we always leave B&B satisfied.
NOTE: There is usually plenty of parking available in the parking lot that is accessible via the alley behind the building.
Sans Distraction:
It's all about the shared dining experience here. The food and those you are seated with are the intended entertainment. (No TVs, scantily clad servers, or otherwise pronounced disturbances.)
Noise Level:
The music and background noise is just enough that you can talk openly without feeling as though your voice is projecting throughout the room without making you shout.
Inspiring Conversation:
You definitely don't need to bring a list of conversation starters. In fact, if you have one, be prepared to not necessarily use it. Conversation will be inspired by your environment and experience.
Intimate:
There's something incredibly intimate about sharing food. Plus, sitting side by side at the chef's bar, watching the great care that is given to each individual plate, and conversing over all of those imaginative flavor combinations, you can't help but leave all your worries behind and just be present.
Private:
With the open kitchen central to the experience, there isn't the privacy or ability to get lost in our own little world that we typically desire for date night. And yet, we don't miss that at Butcher and Bee. Sitting next to others at the chef's bar doesn't feel overly crowded or intrusive. You may rub elbows with your neighbors, but they actually end up as an extension to the shared experience when you see something you might want to try and are able ask them what it is. We've been on both ends of that conversation, and it's always been super friendly and educational.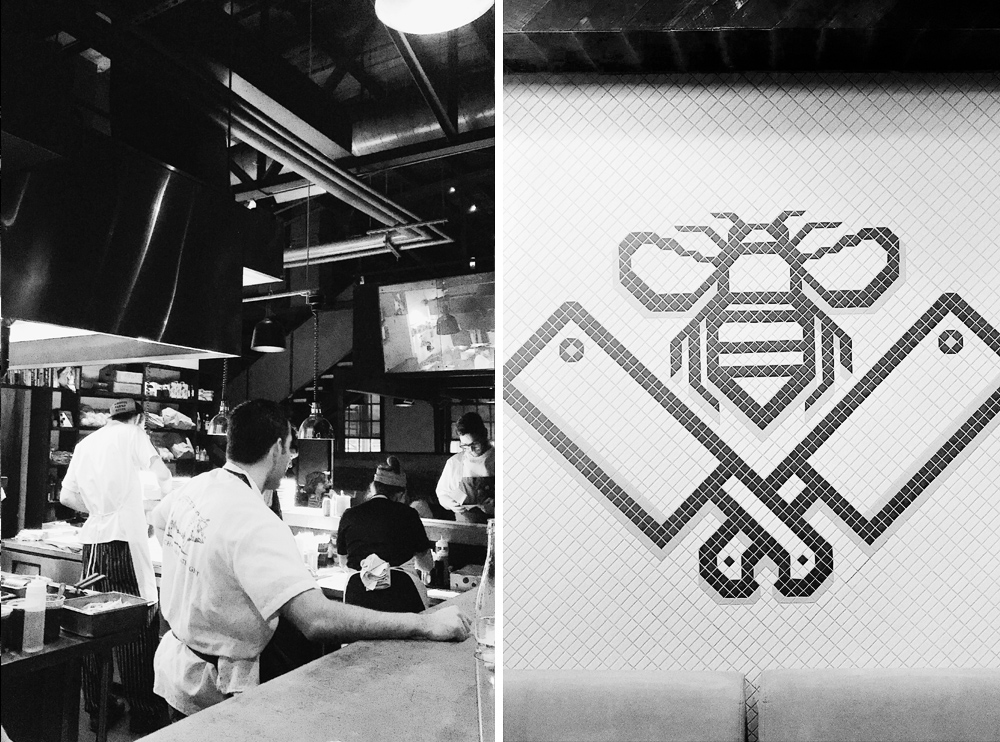 We like to get a little fancy when we go out for date night. Or well, at least she likes to. He mostly just likes the look on her face when he gets dressed up. So usually we land somewhere on the formal side of casual. Butcher and Bee is relaxed enough that you don't have to get too dressed up. And yet, if you happen to be sporting a suit, you wouldn't feel terribly out of place either.

With mezze available for $5 each, and larger plates around $20, you really have the ability to build a meal that fits your budget. Dishes are brought to the table as they are prepared so we typically start with 2-3 selections and then add-on if we're still hungry because everything is so good and we want to have it all!

In Conclusion:
Butcher and Bee is a favorite of ours for date night for a reason! Every time we go, we try something new and love it. And while a changing menu can feel like a bit of a risk, we've found theirs remains consistent enough that we know what to expect – for example, we KNOW that we are going to get the whipped feta every. single. time. Along with the same great service, hospitable environment, and the reliable chefs/cooks who lovingly craft each plate.
KEL AND MEL'S TIPS:
– Ask to be seated at the chef's bar. (Maybe even make reservations in advance just to be sure you get a spot.)
– This isn't a typical restaurant where you order your own meal. It's meant to be a shared tasting experience. Watch the kitchen and what others around you are getting to get a feel for the portion sizes.
– Taste at least one plate that features an unfamiliar ingredient.
– Order the whipped feta. We're not even joking – it's the stuff dreams are made of!
Cheers!
Kel and Mel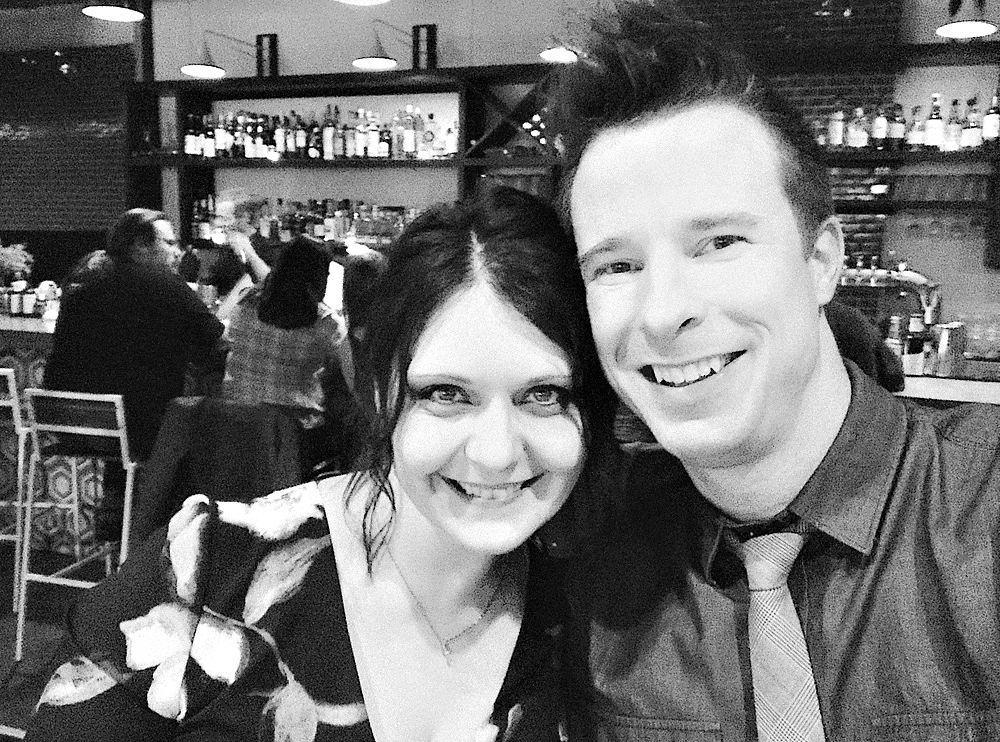 Know of a great date night spot in the Nashville area? We'd love to hear your recommendations! Leave a comment below or send us a note here.
---
Please Note: We are not in any way affiliated with Butcher and Bee, nor are we receiving compensation for this review. All opinions expressed are ours, and points/scales are based on our own impressions and date night experience.